Garmin Alpha 100 TT15 Mini 3 Dog Collar Combo Dog Tracking and Training System
Garmin Alpha 100 TT15 Mini 3 Dog Collar Combo Garmin Alpha 100 TT15 Mini 3 Dog Collar Combo Garmin Alpha 100 TT15 Mini 3 When Garmin improved on the Garmin Astro technology and blended it with the Tri-Tronics Trashbreaker line to create one great canine GPS tracking and training device, they thought of pretty much everything.
The Garmin Alpha has a bigger built-in capacity of 8 GB; nevertheless, the 100K TOPO map included with the Garmin Alpha handheld consumes 3.5 GB. There's still a MicroSD memory card slot, so you can add more storage for things like your FREE 1 YEAR of Birdseye satellite images.
When you combine Garmin's most sophisticated handheld monitoring and training system with the Alpha 100/TT 15 Mini bundle's lightweight and small collar, you'll get optimal performance. Each of Garmin's newest track and train devices is intended for simplicity of use and maximum functionality. Our Pro Staff Review of the Garmin T5 and TT15 Mini Collars can be found here.
IN THE BOX:
Alpha 100 Handheld
Rechargeable lithium-ion battery
1-year BirdsEye Satellite Imagery subscription
TT™ 15 dog device/TT 15 Mini (Your Choice)
1-inch black collar strap
Belt clip
5-inch standard and 13-inch extended range antennas (for Alpha)
18.5-inch standard and 22.5-inch extended range antennas (for TT 15)
Charge clip
Split adapter cable
AC adapter
Vehicle power cable
USB cable
Contact point set with wrench
Durable field bag
Manuals
Garmin Alpha 100 Handheld GPS Features
Garmin Alpha is Touch Screen
3 Button Training Controls (Vibration, Tone and Correction) across the top of the Garmin Alpha Handheld
New Dog Setup Menu including update rates (TT15 collar update speed to handheld)
Rescue Mode – Change TT15 update rate from 2.5 secs to 2 minutes to prolong battery life
All In One Screen – get dog state (moving, treed, sitting) distance from handheld, distance traveled, speed, update rate, tracking line color
Track up to 20 devices (track both TT15 collars and other Garmin Alpha handhelds-a combination of 20 total devices)
Garmin Alpha Lithium Ion Battery (no more AA batteries like the Garmin Astro) – up to 20 hours of battery life
GeoFence & Radius Alerts – you can set up an invisible fence around an area and receive an alert when a dog enters and exits that area.
Dog Trails with 3 view available: Complete History, Partial History, or No Trail History
Map Screen Options: Distance, Names, Show/Hide Dog Status, Offscreen Dogs
Wirelessly sharing of Dog info to and from Garmin Alpha handheld to other Garmin Alpha handheld units
Garmin Alpha is Birdseye Satellite Imagery Capable – 1 Year Subscription Included Free
9 Mile line of Sight GPS tracking (so says Garmin)
Garmin Alpha Handheld is Waterproof – but does not float
4000 Waypoints/Favorites/Locations
200 Routes
Track Log of 10,000 point with 200 saved tracks
Tide Table and Hunt/Fish Calendar
Barometric Altimeter
Emergency Alert – you can send your location with an emergency alert to other Alpha users within the area
VIRB Camera Control – Dog collar can start or stop the VIRB recording based on user command from Alpha 100 handheld
TT15 Mini Garmin Alpha E-Collar (Tracking and Training Collar) Features
Garmin TT15 Mini collars are Waterproof with a top mounted high sensitivity GPS locator located on the back side of the dog's neck.
Braided 18.5 inch Steel Collar VHF Antenna – Light, thin, and tough
LED Lights- Visible for 100s of yards becomes a beacon in the night and adds an element of safety at night. 3 settings LED light settings – Continuous, Blink Slow, Blink Fast
18 Levels of Continuous/Momentary Stimulation
Vibration Training Option
Audio Tone
Customize the correction level for each dog separately
Collar links to the computer for simple software updates and for exporting dog GPS data
Collar strap is changeable and Outdoor Dog Supply offers over 36+ different colors to choose.
Garmin Alpha Handheld Specs:
Weight: 0.55 lbs.
Width: 2.4 inches
Depth: 1.4 inches
Height: 9.5 inches (with short stub VHF antenna)
Height: 18 inches (with Garmin Extended Range Antenna)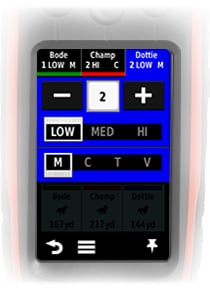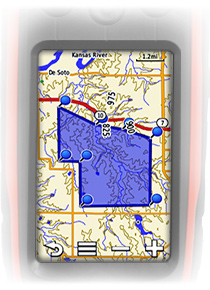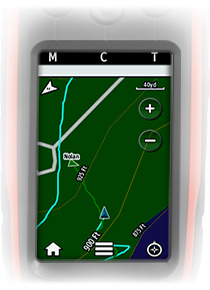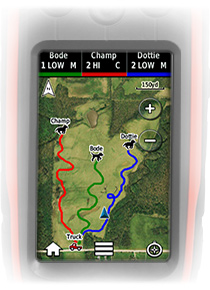 Garmin Alpha 100 100K Maps include the following states: Alabama, Alaska, Arizona, Arkansas, California, Colorado, Connecticut, Delaware, Florida, Georgia, Hawaii, Idaho, Illinois, Indiana, Iowa, Kansas, Kentucky, Louisiana, Maine, Maryland, Massachusetts, Michigan, Minnesota, Mississippi, Missouri, Montana, Nebraska, Nevada, New Hampshire, New Jersey, New Mexico, New York, North Carolina, North Dakota, Ohio, Oklahoma, Oregon, Pennsylvania, Rhode Island, South Carolina, South Dakota, Tennessee, Texas, Utah, Vermont, Virginia, Washington, West Virginia, Wisconsin, Wyoming.
Alpha 200i, Alpha 200, Alpha 10i, Alpha 10
Alpha Mini Combo SKU: 010-01486-30
TT15 Standard Collar SKU: 010-01041-80
Features of the Garmin Alpha 100/TT 15 Mini Combo
Smaller Collar:
Weighing in at only 7.5 ounces, the TT 15 Mini collar is designed for dogs under 50 pounds. Compact and ergonomic, the GPS collar box features rounded edges that reduce wear-and-tear and keep your dogs from hitting legs on the device.
Better Tracking:
The high-sensitivity, top-mounted GPS receiver is now enabled to receive signals from GLONASS satellites. This adds 21 more satellite signals your collar can connect with. Coupled with the 28 satellites currently in the GPS system, these signals will help cut down on dropping satellite connection while hunting in rugged conditions. The Garmin Mini TT 15 track-and-train collar also comes with a more durable and flexible stainless steel aircraft cable antenna cut to 18.5 inches.
Better Training:
The Alpha 100/ TT 15 Mini bundle uses Tri-Tronics technology that includes electronic, tone and vibration stimulation. You'll have 18 levels of stimulation to choose from, applied either continuously or momentary, allowing you to match your dog's behavior in any situation.
Bark Detection:
When enabled, you'll be able to see the rate at which an individual dog is barking right on your Alpha 100 screen. The status of each dog's bark rate can be displayed on both the map and compass screen. You can also set an alert when your dog barks in excess of the chosen barks per minute (20, 40, 60, or 80). This can be a handy tool when your dogs are out of hearing range and you are trying to determine whether the dogs are trailing or have the critter jumped.
Rescue Mode:
This is an invaluable feature that has become a staple with Garmin tracking collars. When activated, the collar will automatically go into battery conservation mode when it drains below 25 percent of a full charge. This mode automatically changes the update rate to 120 seconds (2 minutes). This allows for additional hours of battery life, which can help you to safely retrieve your valued dog.
Track More Dogs:
The Alpha 100 gives you the ability to track up to 20 dogs and simultaneously correct unwanted behavior.
Keep Track of Friends:
Not only can you track up to 20 dogs, but you can also track other Alpha 100 handhelds. Your new Alpha 100 can communicate with up to 20 units overall, meaning that you can track 18 dogs and 2 Alpha handhelds, 17 dogs and 3 Alphas, or any other combination.
Wireless Dog Transfer:
Never has it been easier for you to link dogs to your handheld. One of three ways to add a dog on the Alpha 100, users can wirelessly transfer a dog from one handheld to another. This comes in handy when the dogs are already gone and on a track.
Change Communication Settings on the Fly:
An exclusive feature of the Garmin Alpha 100 is the ability to change all communication settings on the fly. This includes ID numbers, update rates, and the invaluable rescue mode, which slows the update rate to 120 seconds in order to gain additional hours of battery life in case of an emergency.
Track and Train Codes:
With the Astro 100/TT 15 Mini combo, you'll have the ability to control who can track or train your dogs. When connecting a collar to a buddy's device, you can either give them a code that will allow the handheld to track and train, or else just track. This means you'll be able to control who can shock or tone your dog.
Fast Collar Strap Changes:
Modeled after the Garmin Alpha TT 10 and Astro DC 50, collar straps on the Garmin TT 15 Mini easily slide right through the channels on the collar box, making strap swaps easier than ever before. All ¾-inch collar straps will fit the TT 15 Minis. Pick from any one of Double U's different colors!
Improved Charging Port:
The charging port on your TT 15 Mini allows 3 different charging options: AC outlet, a vehicle charging port, and the USB port on a computer. This is especially handy when it's time to run a software update on your collar. All you have to do is attach the charging clip, plug your TT 15 Mini into your computer, and run Garmin WebUpdater.
Adjustable Dog Type:
Using the updated Alpha 100 or Astro 320, you can change the status of each individual to best reflect what they are doing. Your options are pointing, treeing, auto, none. This lets your Alpha or Astro know that when your dog is sitting idle, he or she could be on point or have game treed.
Antenna Sleeve:
With the Garmin TT 15 Mini, you'll never again have to use zip ties or tape to secure an antenna. The new TT 15 Mini comes with a thick, durable rubber sleeve that keeps the VHF antenna erect and receiving communication signals. Along with the rest of the collar, it is extremely durable and easy to clean.
Camera Control:
When linked to the Alpha 100, the TT 15 Mini is capable of controlling the Garmin VIRB camera. This allows you to see what your dog sees in the field.
For additional information about the TT 15 Mini collar, please read our Garmin TT 15 Mini collar review.
NOTE: Like its larger counterpart, the TT 15 Mini can be tracked either on the Garmin Alpha 100 or the Garmin Astro 320 but not at the same time. If you already own an Alpha 100 or Astro 320 and want to track the TT 15 Mini, be sure to update your handheld software by downloading the Garmin WebUpdater on your computer or tablet.
Purchase the Garmin Alpha 100/TT 15 Mini combo and know you're using some of the best in the business.
Comparison Table of the TT 15 and T 5 Dog Collars
What's New in the Garmin ALPHA 100 + TT15 MINI Combo
Designed for smaller breeds measuring as small as 9.5″ in neck circumference

The TT15 MINI is lighter in weight (7.5 oz.) compared to the standard TT15 collar (10 oz.) and uses a 3/4″ collar strap.

Collar sleep mode allows you to save battery life by turning on the sleep mode feature from the handheld
Top mounted high sensitivity GPS / GLONASS Receiver for increased signal reception

The MINI TT 15 collars have the ability to pick up both GPS and GLONASS satellites. GLONASS is the Russian version of USA's GPS satellites. What this means is that there are now more satellites that your system can pick up. This will get you better and faster reception.

Non-stimulating Vibration

Add a new Non Stim communication to your training. The TT15 MINI collars have vibration along with tone. You can use Vibration to teach a silent recall or most any other command that you choose, or use it as a warning prior to stimulation.

Track Alpha TT15 MINI, TT15 and TT10 collars PLUS the new Astro T5 MINI and T5 Collars

The new Astro T5 MINI and Alpha TT 15 MINI collars have the ability to be tracked by either the Astro 320 handheld or the Alpha 100 handheld. Please note that these collars can NOT be tracked by Alpha and Astro handhelds at the same time. T5 MINI and TT15 MINI collars must either be in Astro mode (tracking only) or Alpha Mode (Track and Train for TT15 MINI, Tracking Only for T5 MINI). This lets Alpha users who need a system they can use in competitions legally run T5 MINI tracking collars. Alpha users that do not need ALL of their collars to be training collars can add T5 MINI collars to their Alpha system and use them to only track dogs.

VIRB Control on the MINI TT15 Collar lets you start or stop VIRB video recording with the Alpha handheld (VIRB camera not included)

Folks that want to film their dogs in action can add Garmin VIRB cameras and use the Alpha handheld to control some of the camera features.

1 Year FREE Subscription to BirdsEye Satellite Imagery

Get a chance to try out the Birds Eye satellite imagery for free in your new Alpha handheld. This software gives you the ability to see your dog both on the standard topo map and also using satellite images. It adds a whole new dimension to seeing your dog.

EMERGENCY ALERT lets you send your location and an emergency alert message to other Alpha users in the area.