Description of Garmin Xero x1i scope
The Xero X1i crossbow sight with a built-in laser range finder is the first of its type. This auto-ranging scope with 3.5X magnification automatically estimates the distance to a target. A single button click lets you range game up to 250 yards away and reflective targets up to 500 yards away. Precise lighted aim points automatically adapt brightness to circumstances and let you view your target, unencumbered by reticle patterns.
The Laser Locate waypoint projection function interacts with compatible Garmin devices (available separately) to show you precisely where the target was positioned when the shot or range was taken, so you can better track the game or find bolts. Create bespoke bolt profiles with distinct aim point stacks for each arrangement. Steady Aim and Aim Point Level assure you that each shot will reach its target.
YOU ONLY NEED ONE SHOT
You've never seen a crossbow scope like this before. Range game targets up to 250 yards away, and use digital aim points automatically calibrated to your crossbow setup.
A crossbow scope with a built-in laser range finder? Yeah, we did that.
It's a lot easier to be sure of your shot when you can see it with 3.5X magnification.
Sunrise to sunset, your aim points will be the perfect brightness, easy to see and won't block your view.
The Laser Locate™ feature lets you mark where your shot was taken and other important points after that.
Get precise aim points for multiple crossbow setups, and easily switch between them.
Steady Aim and Aim Point Level give you confidence that each shot will find its mark.
SILENT RANGE BUTTON
Mount the button in the optimal spot for your grip so one finger can discreetly activate the laser range finder to tell you the distance and precise aim point you need for the shot.
RUGGED
Built to resist all hunting situations, the scope will be ready in rough weather or on a blue sky, high-pressure day in mid-November.
AUTOMATIC RANGING
Get the quick angle-compensated distance to game up to 250 yards away, reflecting targets up to 500 yards away, and black targets up to 125 yards away.

3.5X MAGNIFICATION
Take every shot with confidence. Get on target fast, and see your mark with 3.5X magnification.

ILLUMINATED AIM POINTS
Precise lighted aim points automatically adapt brightness to circumstances and let you to view your target, unencumbered by reticle patterns.

LASER LOCATE FEATURE
Our waypoint projection function links with a compatible Garmin GPS device (available separately) to reveal the target's actual position when the shot or range was taken.

CUSTOM BOLT PROFILES
Create bespoke bolt profiles with distinct aim point stacks for more accurate shooting across a range of settings.

CROSSBOW DYNAMICS
Steady Aim and Aim Point Level feature offer you the confidence to take the shot, while Roll at Shot and Impulse Duration provide feedback on your setup's performance.

HIGH-PERFORMANCE OPTICS
Bright, sharp optics give outstanding vision in low light and edge-to-edge clarity for a stunning perspective of your target. The rangefinder is Class 1 eye-safe.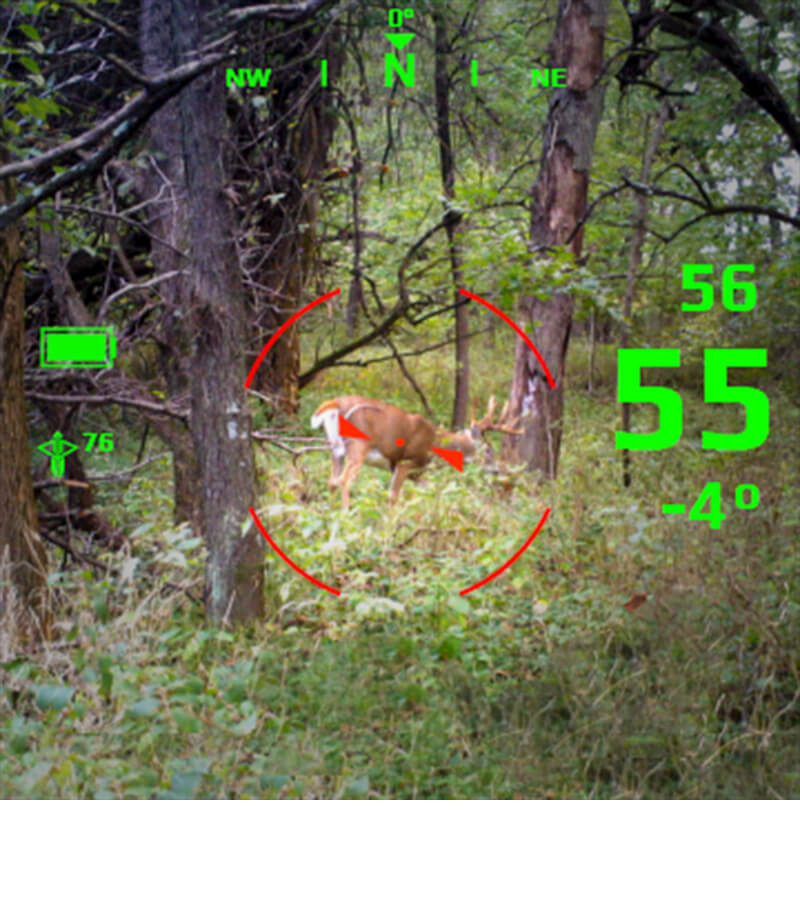 Specification of garmin xero x1i crossbow scope for sale – range game
| | |
| --- | --- |
| Unit dimensions (LxWxH): | 6.2 x 2.6 x 3.7 (158 x 66 x 95 mm) |
| Weight: | 1.9 lbs (862 g) |
| Multi-color display: | yes |
| Objective diameter:  | 1.2″ (32 mm) diagonal |
| Magnification: | 3.5x |
| Field of view: | 5 degrees |
| Eye relief: | 2.4″ (62 mm) |
| Focus adjustment: | +/- 2 diopters |
| Range to game targets: | 250 yds (229 m) |
| Range to reflective targets: | 500+ yds (457+ m) |
| Battery life: | Up to 1 year |
| Battery type: | 2 AAA lithium batteries (included) |
| Operating temperature range: | -20 C to 60 C (-4 F to 140 F) |
| | IPX7, Nitrogen filled |
| Interface: | microUSB |
| Connectivity: | ANT® |
| AutoCal: | Bow speeds up to 650 FPS, out to 80 yds (73 m) |
| Laser Locate™: | yes (with compatible Garmin wearables and handhelds) |
| Electronic level: | yes |
| Compass:  | yes |
| Angle compensated distance: | yes |
| Aiming accuracy: | 1/2 MOA (1/2″ at 100 yds) |
| Flight Apex: | yes |
| Auto brightness: | yes |
| Steady aim: | yes |
| Configurable aim point shapes: | yes |
| Dual rangefinder triggers: | yes |
| Shot counter: | yes |
| Integrated mount: | yes |
| Roll at shot: | yes |
| Impulse duration: | yes |
| Auto color option: | yes (pick color preference for bright and dim conditions separately) |
What is in the box?
Xero X1i crossbow scope
Wired standard length range finder trigger
Lens covers
microUSB cable
2 AAA lithium batteries
Wrench
Tape
Documentation
Installing and setting the Garmin Xero X1i
The garmin Xero X1i sports an aluminum shell with a quiet, rubberized finish. The item is waterproof to IPX7 requirements and delivers superior, fully multicoated, nitrogen-filled optics with a fixed 3.5X magnification.
The inbuilt laser rangefinder can range deer-size animals up to 250 yards and reflect targets up to 500 yards with a tenth-of-a-yard accuracy. The gadget weighs 30 ounces and is 6.2 inches long, 3.7 inches high, and 2.6 inches broad. It is powered by two AAA lithium batteries (included) (included). Garminsays have a lifetime of up to a year.
The sight is intended to connect to any Picatinny or Weaver rail and is quickly mounted with the aid of two included screws. The scope is intended for roughly 2.44 inches of eye relief and should be positioned such that it gives a full and clean field of vision when your cheek is pushed against the crossbow scope stock in the aiming position. The focus is readily adjusted by twisting an adjustment ring around the eyepiece.
The XeroX1i comes with a remote range trigger that fits inside the scope and is meant to be positioned for usage when your hand is near the crossbow trigger. This is in addition to the big range button positioned on top of the scope, power and menu navigation buttons on the side. The provided mounting hardware makes this operation straightforward for both right-handed and left-handed shooters, as well as a variety of stock styles.
Once you've mounted the scope and remote trigger on your crossbow, you're ready to go to the range and complete the first sight calibration. The garmin Xero X1 is exceptionally excellent at this, since the sight physically takes shooters through the initial calibration procedure with on-screen instructions that can be viewed by looking through the scope.
Calibration starts with dialing in your zero at 20 yards by shooting a test shot and then adjusting the scope's windage and elevation knobs as you would with any riflescope.
Once you've struck the bull's-eye at 20 yards, you have two choices for concluding the calibration. The first step is to input your crossbow's bolt speed, if it is known. This may be performed by either employing the manufacturer's suggested speed or by firing through a chronograph to ascertain your actual bolt speed.
If the bolt speed is known, the XeroX1i can automatically calculate the bolt trajectory and offer an exact aiming point for any shot of 80 yards or less. The XeroX1i can fire bolts at up to 650 fps, which is a lot quicker than even the quickest crossbows on the market today).
If you aren't sure what your bolt speed is, you may simply calibrate it by dialing in at a second distance of 50 yards using the elevation dial on the scope.
Once the sight has been calibrated at 20 and 50 yards, it can utilize that data to figure out how fast and where the bolt will move, giving you exact aiming locations for all distances up to 80 yards.
From earlier testing for our setup, we knew the bolt speed on our Vapor RS470 was 430 fps using TenPoint's given 462-grain bolts. So we just put in the value and were good to go.
Before we go any further, it's worth mentioning that the XeroX1i can fire at distances higher than 80 yards.
However, beyond the age of 80, the scope will not automatically calibrate aiming positions. Long-range shooting means that you have to set up each one by hand and preserve them in the scope's memory for future use.
incorporated in laser (range finder) – automatically adjusts
Shooting a crossbow with a XeroX1i attached is almost too easy to believe once calibrated. To put it another way, it took us a while to actually trust that the scope accomplishes what it is meant to do, which is to enable you to physically travel to any unknown range within 80 yards, click the ranging button, employ the given aiming point, and strike the bull's-eye.
But that's precisely what we did, again and over. During testing, it was evident when any shot missed the target by more than a few inches—anomalies we chalked up to our limitations as marksmen rather than any failure of the sight or crossbow.
In the end, we learnt not to disagree with the math that was utilized to do any computations within the scope.
Simply aim, push the range button, and fire; the scope will do the rest.
When gazing through the scope, either press and hold the ranging button on top of the scope or the remote ranging trigger to range your target. This triggers a crosshair that you position on the target and keep in place until the scope reads "Target Locked.
" Simply release the button, and the scope will show the line-of-sight range, as well as the angle-compensated, or "shoot-for" range, the shooting angle, and an aiming point to utilize. From a basic dot or crosshair to a vast variety of different choices, you may select the best method to shoot.
It's also worth highlighting that, if you desire, you can convert to "fixed-pin" firing mode with a slight press of the ranging trigger. In fixed-pin mode, the display will show several aiming points for pre-determined yardages that you may adjust. For example, if you want the top dot to be set at 25 yards and the lower dots to be set at 40, 50, and 60 yards, you may do so using the menu system.
You may also adjust the color of the scope's internal display, and you aren't restricted to the standard green or red options. If you desire yellow, blue, purple, orange, or another color, the XeroX1i can accommodate you. The scope will also vary the brightness of the internal display to fit the light in the room, or you may change it yourself if you like.
It's one thing to fire on the range under controlled circumstances with a sturdy shooting rest. But it's in the field that the XeroX1 truly excels, since photography is typically done from unexpected distances, difficult postures, and in unpredictable conditions.
Although the remote ranging trigger is beneficial on the range, it is substantially preferred in a bowhunting scenario as it enables you to observe your target via the scope and repeatedly range the animal (deer, elk, turkey, etc.) with almost no movement. When the animal comes to a halt and it's time to fire, simply let go of the range trigger and utilize the aiming point on the screen to pinpoint the vitals.
The built-in digital level at the bottom of the display and the Steady Aim indication are two extra features we believed were great for bowhunters. As illustrated in the accompanying picture, the level gives a fast visual reference of whether your crossbow is tilting to one side or the other, enabling you maintain your limbs level while shooting for best accuracy. Even better, you can check the level without ever moving your sight away from your target animal.
Meanwhile, Steady Aim employs circles that appear around your shooting location to indicate if you have buck fever. A bigger circle suggests that you are unsteady. A smaller circle suggests that you are unsteady.
When there is no circle, it implies that you are still on target and may push the trigger and punch your tag. This gives you the go-ahead to accomplish this.
Finally, Garmin refers to this feature as "Flight Apex," a line above the aiming points that serves as a visual reference to the top of the flight path of your bolt as it travels from your crossbow to the target.
Whether you've ever had an animal in your scope but worried if an overhanging branch between you and your target may deflect your bolt, you'll understand how helpful this feature can be. Simply check to see if there are any possible obstructions above or below the line. Your shot is clear if they are over the line.
Advanced Options – compatible Garmin device
The XeroX1i also contains a number of supplementary functionalities that considerably expand the scope's usefulness. The most noticeable is Laser Locate, which calculates the precise position of your target at the moment of the shot based on the known range and built-in digital compass. This data may then be uploaded to a compatible Garmin GPS device or wristwatch so that you can start monitoring your reward or locate the bolt.
Another significant feature is the capacity of storing numerous bolt profiles inside the scope.
Assume you use one sort of bolt for deer hunting but a another, stronger bolt for moose or an upcoming dangerous game hunt in Africa. This means that you can calibrate the scope with both bolts and then switch between the two with the touch of a button. You don't have to make any real sight adjustments.
The garmin xero x1i crossbow sight also contains a shot counter to aid you in monitoring string life on your crossbow and recording specified intervals between periodic maintenance. The scope even measures impulse length on each shot to illustrate the relative amount of vibration experienced by the sight as well as the degree of roll experienced by the crossbow during the shot. Use both of these pieces of data to keep an eye on how consistent you are when you shoot. This will help you increase your accuracy over time.
The Final Word-Garmin xero x1i crossbow sight for sale
Garmin Xero X1i crossbow sight is an outstanding piece of equipment and, without a doubt, the most sophisticated cross bow scope we have ever evaluated. It's impossible to think of a bowhunting circumstance where the Xero wouldn't give a major advantage over a conventional Garmin Xero x1i scope.
There's a lot to love here, from the ability to execute quiet and silent ranging to the assurance of having spot-on aiming at any actual hunting range.
As you would imagine for a device of this quality, the Garmin Xero x1i crossbow sight is not affordable. The recommended retail price for the Garmin Vapor RS470 crossbow bundle is $750, while the price for the TenPoint Vapor RS470 crossbow kit is $750. Although it is not in everyone's budget, those who do add one to their arsenal will surely obtain the performance they have paid for.
One last item to discuss is legality. The usage of bow-mounted electronic devices is subject to a broad variety of state restrictions. So, before you hurry out and add the Garmin Xero X1i to your crossbow, double-check that it is allowed where and how you want to use it.