KEY FEATURES
TRACK UP TO 20 DOGS
4-9 MILE RANGE
2.5 SECOND UPDATE RATE
GPS+GLONASS
TOPO U.S. 100K
Handheld Tracking System for Sporting Dogs
Track up to 20 dogs¹ at a time, with ranges up to 9 miles using compatible Garmin dog collars (sold separately)
2.5-second update rate provides faster location tracking when dogs are on the run
GPS and GLONASS reception enables better satellite tracking in challenging environments than GPS alone
Comes with preloaded TOPO U.S 100K mapping and a free 1-year BirdsEye Satellite Imagery subscription; compatible with Garmin HuntView™ cards
Hunt Metrics data helps analyze your dogs' hunting patterns and behaviors; view distance traveled, time afield and more

The Astro 430 is a portable powerhouse of dog-tracking capabilities, with quicker 2.5-second position updates and the ability to monitor up to 20 dogs1. The Astro 430 handheld is intuitive and simple to use, with a bright 2.6″ color display, preloaded TOPO US 100K mapping, an optional in-unit rechargeable battery, and Hunt Metrics data to assist you study your dogs' tracking behaviors in the field so you can know how to teach them more successfully.
Keep an eye on your dog's every move.
Astro 430 is fast to determine the trail they're following — even while they're on the go — thanks to a compatible Garmin dog collar (available separately) that transmits each dog's position as frequently as every 2.5 seconds. You can view your dog's current position and a trail of where he's been on the Astro handheld's bright, sharp display. You may also see a compass pointing to your dog's position by going to the Dog Track page.
It's simple to auto zoom the map page to show all dogs on the display at any moment, which helps maintain the larger picture in sight while monitoring many dogs. Dogs that are too far away to be seen on the current zoom scale of the map may be noted on the display's margin in the direction of their position.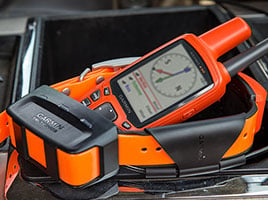 To decrease visual clutter on the map, choose between "show all," "show some," and "show none," indicating how long each dog's trail should be shown. You may also share a dog's track code with someone else so they can see your dog's position on their device's map, as well as the dog tracking compass. You may also enable another person to setup and operate your dog's on-collar device by providing the control code.
Additional Mapping Provides More Detail
The Astro 430 has a microSDTM card slot for adding even more mapping choices, such as TOPO U.S. 24K and HuntView maps (sold separately). You may also choose City Navigator® NT map data, which provides turn-by-turn driving instructions on highways.
Astro 430 now supports BirdsEye Satellite Imagery (a free 1-year membership is provided), allowing you to download satellite pictures to your smartphone and combine them with your maps. The mapping on the Astro handheld shows significant surrounding geographic features, allowing you to know whether your dog has crossed a brook or is approaching a hazardous road.
Garmin Custom Maps, a free program that converts paper and electronic maps into downloaded maps for your device, is also compatible with the Astro 430.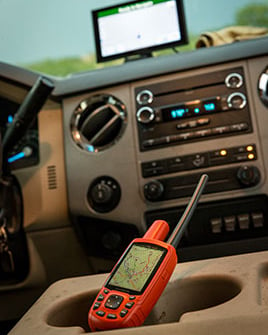 Track with Hunt Metrics Data
Sophisticated Hunt Metrics help monitor your dog's hunting patterns and behaviors to optimize your training opportunities. You can see your dog's times, distances traveled and overall scores. Plus, the Astro 430 will also capture the number of times during the hunt when an "on point" or "treed" event was indicated.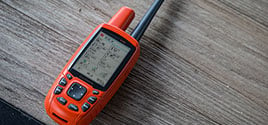 Count the number of coveys you have.
After you've located your target, use Astro handheld's Covey CounterTM to record the precise area with a specific waypoint that displays the exact position, time of day, and elevation where you spotted your prey, as well as the number of birds you flushed and captured from that location.
Other specific waypoints, such as "Truck" and "Lodge," may be saved in Astro so you can quickly make your way back to them at the conclusion of the search. Food plots, tree stands, and other hunting-related places are represented by specific waypoint icons in Astro.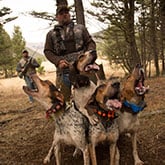 Make Each and Every Outing a Success
With BaseCampTM software, you can examine and manage maps, waypoints, routes, and tracks for a more effective hunting trip. You can also build Garmin Adventures to share with friends, family, or other dog trackers with this free trip-planning program. On your computer screen, BaseCamp shows topographic map data in 2-D or 3-D, including contour lines and elevation profiles.
When combined with your Astro handheld's complimentary 1-year BirdsEye Satellite Imagery subscription, it can also upload an infinite number of satellite pictures to your smartphone.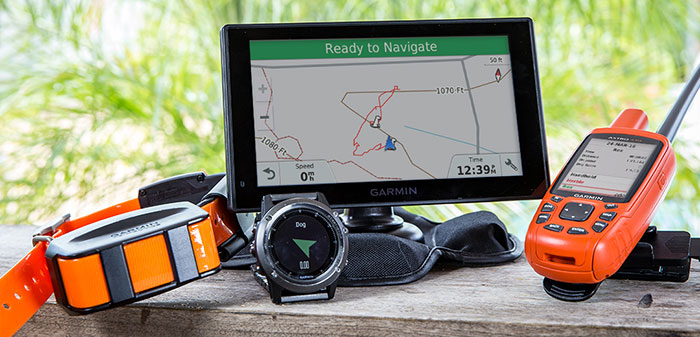 Wirelessly share
Astro 430 can allow unit-to-unit data transmission with a number of compatible Garmin devices thanks to an extended ecosystem of wireless networking possibilities. The tough Tread® off-road powersport navigator or the Garmin DriveTrackTM 71 car navigator, for example (both offered separately), can receive and display dog locations on its moving map — with topographic or satellite image views — offering navigation clues to your dog's present location.
Similarly, fnix® series watches can receive dog status updates and alarms and display them on your wrist at a glance. While you're out in the field, Astro 430 allows you to connect and share wirelessly with your friends' compatible devices, such as the Oregon® handheld, Montana® handheld, GPSMAP® 64 chartplotter, or other ANT+® equipped devices, to assist organize hunt logistics on the go.
Turn Your Computer Into a Dog Tracking BaseStation
Install BaseStation software on your laptop to transform it into a field control center for monitoring numerous dogs (with compatible Garmin dog collars2). View real-time GPS data on your computer's bigger monitor, which is great for canine search and rescue teams. Because it's GPS and GLONASS enabled, you'll be able to monitor your whereabouts even if you don't have access to the Internet or mobile service.
Long-lasting, tough, and water-resistant
Astro 430 is intended to be effective, simple to use, trustworthy, and tough enough to resist all the knocks, bumps, and messy conditions of training and hunting, much like other Garmin outdoor devices. The portable device is water-resistant to IPX7 and may be powered by normal AA batteries or a long-lasting NiMH battery pack that can be recharged in the unit. Furthermore, if you lose or drop your Astro 430 in the field, the high-visibility orange casing makes it simple to locate.
General

DIMENSION
2.4″ x 6.3″ x 1.4″ (6.1 x 16.0 x 3.6 cm)
DISPLAY SIZE
1.43″ x 2.15″ (3.6 x 5.5 cm); 2.6″ diag (6.6 cm)
DISPLAY RESOLUTION
160 x 240 pixels
DISPLAY TYPE
transflective, 65-K color TFT
WEIGHT
9.2 oz (260.1 g) with batteries
BATTERY TYPE
Optional NiMH pack or 2 standard AA (not included)
BATTERY LIFE
up to 20 hours (Astro 430)
WATERPROOF
IPX7
MEMORY/HISTORY
4 GB
Maps & Memory

PRELOADED MAPS
yes (TOPO)
ABILITY TO ADD MAPS
BASEMAP
AUTOMATIC ROUTING (TURN BY TURN ROUTING ON ROADS) FOR OUTDOOR ACTIVITIES
Yes (with optional mapping for detailed roads)
EXTERNAL MEMORY STORAGE
microSD™ card (not included)
WAYPOINTS/FAVORITES/LOCATIONS
2000
NAVIGATION TRACK LOG
10,000 points, 200 saved tracks
NAVIGATION ROUTES
200
Sensors

HIGH-SENSITIVITY RECEIVER
Yes
BAROMETRIC ALTIMETER
Yes
COMPASS
Yes (tilt-compensated 3-axis)
Additional

ADDITIONAL

Range (line of sight): T Series: 9 miles; T mini Series: 4 miles
Frequency band: The T Series and the TT Series dog collars cannot be tracked simultaneously by both the Astro 320 and Astro 430.
Handhelds vibration mode: yes
Tracks up to 20 dogs simultaneously

​Specs for T 5 mini dog collar

Specs for T 5X dog collar
Handheld Only
Astro 430 handheld
5″ standard and 13″ extended range antennas
Belt clip
USB cable
Documentation
Astro 430 with T 5X Dog Collar
Astro 430 handheld
T 5X dog collar with a rechargeable lithium-ion battery pack
1″ blue collar strap
5″ standard and 13″ extended range antennas (for Astro 430)
18.5″ standard and 22.5″ extended range antennas (for T 5X)
Belt clip
AC adapter (for T 5X)
Vehicle power cable (for T 5X)
Charging cable (for T 5X)
USB cable (for Astro 430)
Documentation
Astro 430 with T 5 Mini Dog Collar
Astro 430 handheld
T 5 mini dog collar with a rechargeable lithium-ion battery pack
3/4″ blue collar strap
5″ standard and 13″ extended range antennas (for Astro 430)
18.5″ standard range antenna (for T 5 mini)
Belt clip
AC adapter (for T 5 mini)
Vehicle power cable (for T 5 mini)
Charging cable (for T 5 mini)
USB cable (for Astro 430)
Documentation
Features of the Garmin Astro 430 Handheld
Track More Dogs:
The Astro 430 handheld comes with the ability to connect with up to 20 GPS dog tracking collars, with a range of up to 9 miles.
Compatibility:
Track your dogs with a variety of GPS collars. The Astro 430 is compatible with T 5, T 5 Mini, TT 15, TT 15 Mini, DC 50, and TT 10 tracking devices. Remember that the Astro 430 can only provide tracking functions.
With the Astro 430, you can track the same collars as Alpha users. This is great for people who don't want or need the training features of the Alpha track-and-train but still hunt and share dogs.
The Astro 430 is also compatible with Garmin's DriveTrack 70 vehicle tracking screen, the fēnix 3 GPS tracking watch, the Garmin VIRB Action camera and ANT+ sensors such as the Tempe dog box temperature gauge.
Improved Tracking:
Thanks to advancements in satellite connectivity, it is now less likely for your collar to lose satellite reception while traveling through heavy cover or deep canyons. This is thanks to the highly sensitive top-mounted receiver that tracks with GLONASS and GPS satellites, nearly doubling the number of satellite connections.
Permissions Codes:
While using an Astro 430, you'll be able to share dogs with other Astro 430 or Alpha 100 users but still remain in control of your own dogs. You'll be able to choose who can make changes to your collar system by sharing a permissions code that must be entered before changing update rates and the ID.
Faster Update Rate:
The Astro 430 is capable of connecting to your collars as frequently as 2.5 seconds, allowing you to keep a closer eye on your dogs.
Hunt Metrics:
Hunt Metrics makes viewing your dog's performance easy. You can view the distance your dog has traveled, how long they have been out in the field, and much more. This helps you monitor your dog's progress in training and be a helpful tool in fine-tuning your program to get the most from your tracking dogs.
Customizable New Hunt:
You can now customize what dogs you want to keep track information for and which dog tracks you want to clear when you start a new hunt.
Pre-installed Topo Map:
The Garmin Astro 430 comes preloaded with 100,000 topo maps that span the entire U.S. These maps give you topographic detail, roads, creeks, streams, rivers, lakes, etc.
Batteries:
You have the option to power your Astro handheld with your standard AA batteries or with an optional NiMH rechargeable 2 battery pack.
Highly Visible Design:
The Astro 430 comes with a vibrant, bright hunter's orange case, which will make finding your Astro GPS much easier—if you happen to drop it.
Get the newest in Garmin's tracking-only technology. This new Astro handheld will be hard to beat.